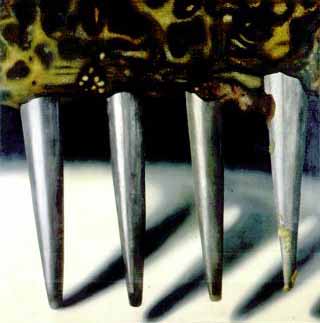 Antonio Henrique Amaral
(São Paulo SP 1935)

Campo de Batalha 25
Battle Field 25


óleo sobre tela / oil on canvas
1974
152 X 152 m

Lembrar de Antonio Henrique Amaral e, em particular, de paisagens com bananas aprisionadas, cortadas, furadas por garfos opressores. A obra em exibição é registro da pontuação do ideário antropofágico na obra do artista. Yés, nós tinhamos bananas! A atuação de Antonio Henrique foi decisiva nos anos 60 e 70. A partir dos 80 seu trabalho aderiu a outras preocupações, com o resgate da poética da sensualidade, entrelaçar orgânico de corpos e bambus

Whenever the subject is Latin-American painting, Antonio Henrique Amaral is a name that always comes to mind - particularly his landscapes with bananas being imprisoned, cut, bored by oppressing forks. The work in exhibition is a record of the presence of the anthropophagic ideas in the artist's work. Yes, we had bananas! Antonio Henrique's performance was essential during the 60's and the 70's. From the 80's onwards, his work addressed other concerns, such as the rescue of the sensual poetry, through an organic intertwine of bodies and bamboo.